Miniature Dachshunds, also known as sausage dogs, are small stout dogs renowned for their signature long body and short legs.
If you're interested in buying a Miniature Daschund puppy but want to learn more about the breed first, then you're in the right place.
In this article, I will explore some key information about Dachshund puppies, including 4 things you need to know before buying a Dachshund puppy.
Let's get into it.
Miniature Dachshunds are small dogs that originated from Germany.
They are considered to be one of the oldest breeds of dog out there.
The name comes from the German word "Daschund" meaning "badger hound".
Miniature Dachshund Temperament
Miniature Dachshund puppies are adorable little dogs. They are very energetic and playful, making them great family dogs.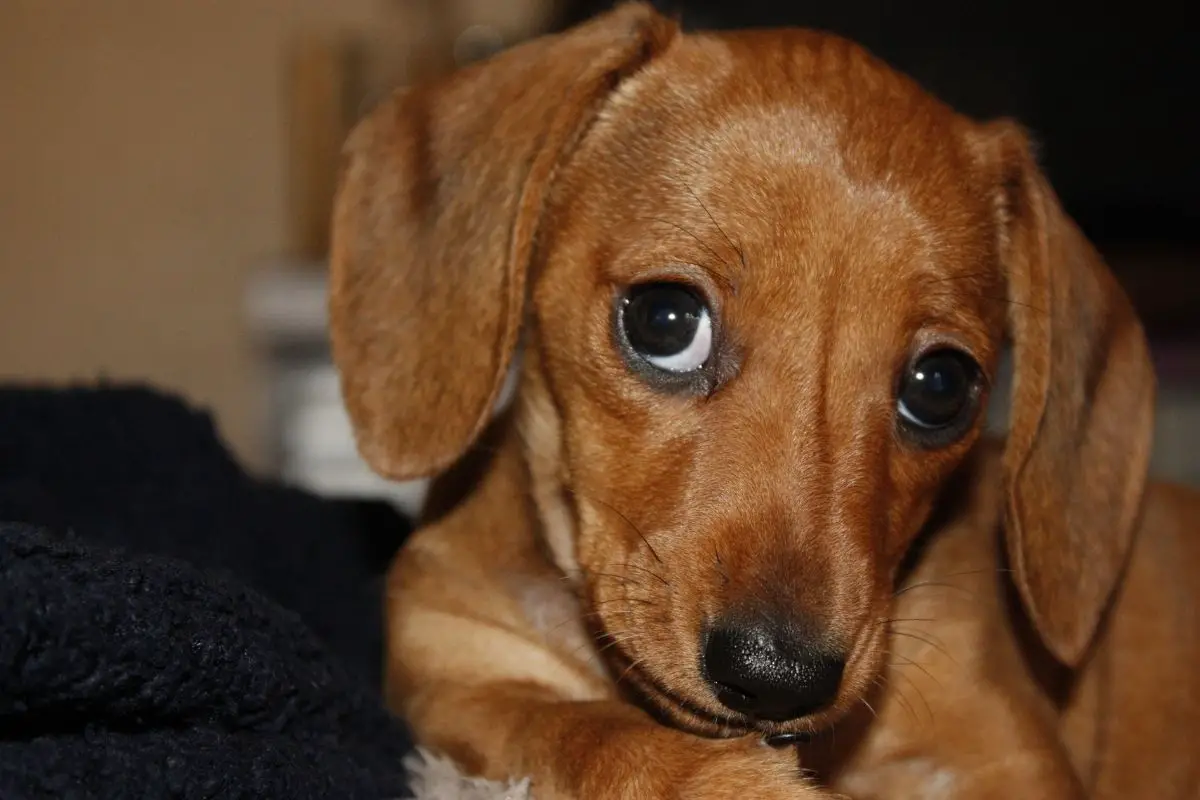 It's also worth mentioning that they are renowned for being stubborn and independent by nature, which can make it tricky when it comes to training them.
While they're small, there's no denying that you'll have your hands full with these dogs!
Miniature Dachshund Puppies: Here Are 4 Things You Need To Know
Navigating buying a new puppy for your family can be a minefield when you don't know what to look out for. Raising them from puppyhood requires a lot of attention
Here are four things you need to know before buying dachshund puppies.
1. Buy Only From Reputable Breeders
When it comes to buying any puppy, you need to ensure that you buy from a reputable breeder.
Sadly, there are a variety of puppy mills that pose as reputable breeders, breeding dogs with various health issues in horrendous conditions.
You need to make sure that you ask the breeder the appropriate questions.
If when you're trying to make arrangements to meet the dog's parents or mother the breeder seems suspicious or won't allow you to meet them, then this is a huge red flag.
In addition, if a deal seems too good to be true, then it likely is! You need to trust your instincts and follow your gut.
If a breeder is selling a puppy for much cheaper than you'd expect, or if they won't allow you to meet the mother or see where the puppies are kept, then it is likely that they are hiding something from you.
It is your responsibility to make sure that you do your research and are purchasing a Dachshund puppy from a reputable breeder.
2. Daschunds Require A Lot Of Attention
If you think you're used to needy dogs, you haven't seen anything until you've owned a Dachshund.
Despite the fact they're independent and stubborn when it comes to training, Dachshunds love attention and aren't afraid to use their bark to let you know if you're not meeting their needs!
A lot of Dachshunds can grow to be quite demanding of your attention, so try not to fuss over them too much or they could become needy and not cope well without you.
This is why it's essential to set boundaries and train your Dachshund from the start.
It's also worth noting that Daschunds can become very possessive over their owners, and can even exhibit aggressive behaviors if they don't learn that this is an unacceptable way to behave.
There are a few tips to prevent your Daschund puppy from becoming possessive.
These include but are not limited to:
Socializing Your Miniature Daschund Puppy
The more your Dachshund is familiar with experiencing new places, sounds, smells, people, and dogs, the less they need to rely on you.
While having a close bond with your dog is fine, they need to be able to socialize with others, too.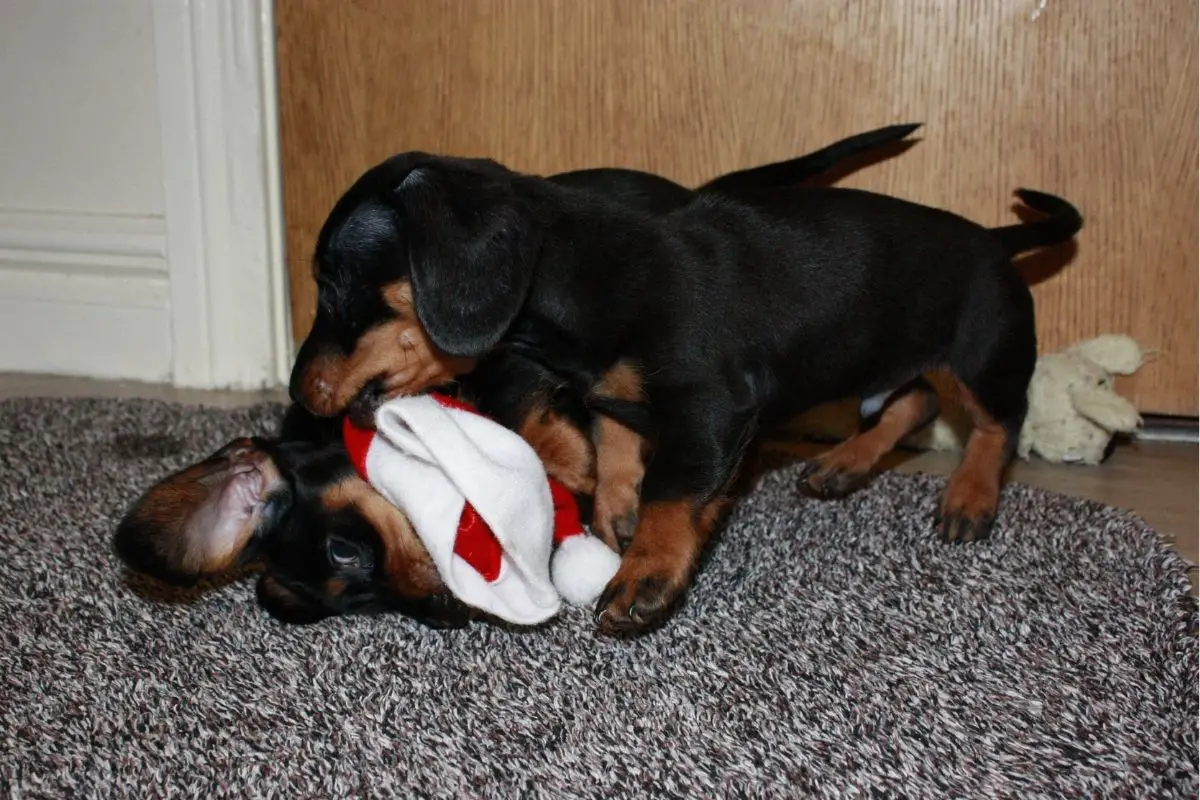 Focus On Separation Training With Your Miniature Dachshund
If your Dachshund is exhibiting needy behaviors, then it's likely that you need to focus on some separation training.
You can start slowly and gradually increase the time that your Dachshund is away from you in order to prevent separation anxiety from occurring.
Dachshunds can easily become attached to one person if you're not careful. This, in turn, can lead to them becoming possessive.
To prevent this from happening altogether, you should try to make sure that you share the duties that looking after your Daschund entails.
For instance, switching up who feeds, walks, and plays with your Dachshund is a good way of ensuring that they have a close bond with multiple people as opposed to just one caregiver.
3. Be Prepared To Dedicate Time To Training Your Puppy
If you're looking for an easy dog to train, a Miniature Dachshund puppy probably isn't the right choice for you.
There's no way to dress it up – Dachshunds take a lot of work to train!
This is down to the fact that they can be extremely independent and stubborn dogs, and require consistent and constant training to be taught that you're boss.
You shouldn't ever go into training a Miniature Daschund puppy with the naive view that it is going to happen overnight – it isn't, and you're going to have to overcome a variety of challenges with patience and dedication.
When it comes to training your Dachshund puppy, excessive barking and potty training can be particularly challenging.
Some training tips to consider are:
Set Clear Boundaries
Setting clear boundaries is really important to your Dachshund puppy's progress.
There's no point in training him not to go on the couch one day, and then allowing him on the couch for snuggles the next. Set clear boundaries, and stick to them.
Be Consistent
Dachshunds have the tendency to exhibit bad behaviors just to get your attention. Bearing this in mind, when they're young, they require a firm hand to learn that this is no way to behave.
Even with a firm hand and consistent training, your Miniature Dachshund puppy takes time to let go of their innate stubbornness.
Bearing this in mind, you will need to ensure that you're consistently training them in short, engaging sessions with plenty of treats and positive reinforcement!
Dedicate Your Time To Training
You might be thinking that a Daschund is the perfect family pet for you, but if you don't have the time to dedicate to their training, then you should forget this idea.
You can't expect your Daschund puppy to understand you straight away, and building the bond and trust between you and your dog is a fundamental step to getting them to listen to you.
If you work full-time and aren't going to be at home for a lot of the day, then it's likely that you'll find a more suitable dog.
4. Dachshunds Need Regular Exercise
Although Miniature Dachshunds are a small breed of dog, they still need regular exercise!
Keeping your Daschund fit and healthy and in the best condition is essential for maintaining their overall health as well as their back health.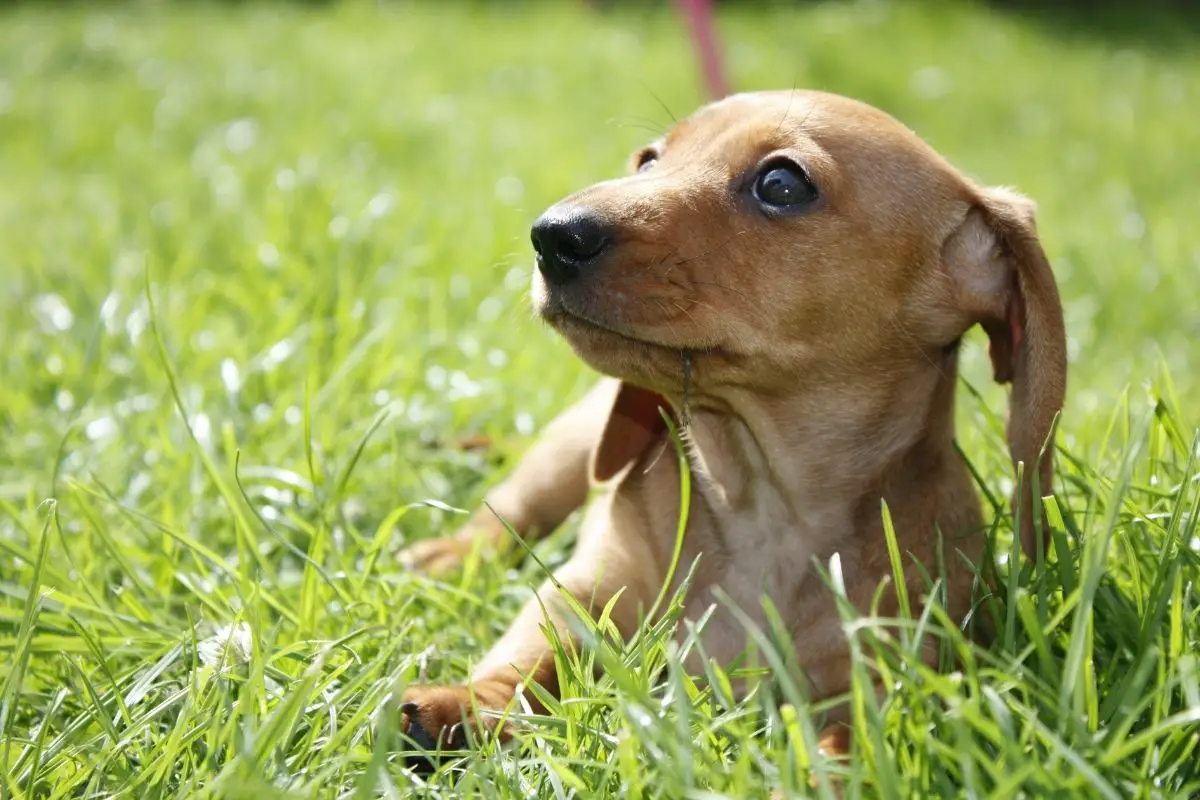 Dachshunds are prone to developing back trouble, including back disc issues due to their long frame.
This is why it's so important to prevent them from gaining too much weight by regularly exercising them indoors and outdoors.
That being said, these dogs aren't built for walking long distances due to their short legs, and benefit the most from short bursts of exercise.
As a puppy, Miniature Daschunds require 5 minutes of exercise for every month of their age.
As an adult, your Miniature Dachshund will need a minimum of half an hour of exercise every day that is split into a few walks.
Why Are Dachshunds Hard To Train?
The fact Dachshunds are challenging namely comes down to the fact that they are intelligent and stubborn by nature.
This means that they need to be led by a firm hand and trained with clear instructions from the outset for them to learn that you are boss.
Secondly, they can be hard to train when you're inconsistent. So, make sure that you have the appropriate amount of time to dedicate to their training.
Can You Train An Older Dachshund?
If a stubborn puppy grows into a dog without consistent training, then you will seriously struggle to reverse bad behaviors that they have developed over a significant period of time.
Although it's not impossible to work on these bad behaviors with your dog, it's much better to nip them in the bud when your Dachshund puppy is still young.
This way, you're addressing the issue before your stubborn miniature Dachshund has had the chance to learn this behavior.
In Summary
Hopefully, after reading this article you have a better understanding of whether a Dachshund puppy is the right choice for you.
Always make sure that you're taking the time to research Dachshund puppy breeders, and that you're well aware of what taking care of a Daschund puppy entails.
Only then will you be able to decide whether bringing a Dachshund puppy is the right choice for you and your family.
Checkout a list of Breeders that can help you narrow down if you are looking for a Dog Breeder or Puppies.